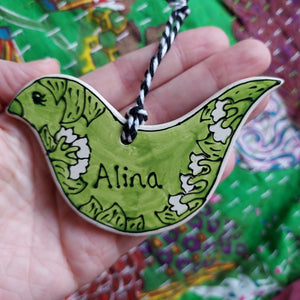 This item is heavily reduced and is non-returnable.
This decorative bird is hand painted and would look beautiful hanging on a dresser or wall. 
Why not add one to your tree this Christmas or gift to a friend.
Hand painted in my little wooden studio in the garden. 
Gift boxed in a kraft box 
PRODUCT INFO
Hand painted bisque
Measures 6 x 10 cm
This item is handmade the item shown is the item you will receive. Please allow for slight colour variations. Imperfections are part of the handmade process and should be enjoyed for their uniqueness.