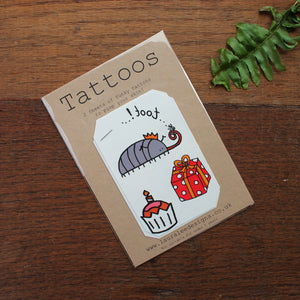 A must have for die hard Cyril the woodlouse fans. He now has his very own limited edition collection of colourful tattoos. 
Cyril loves parties! Here he is blowing his tooter and feeling very special in his golden party hat along with a pink iced cupcake with party candle and a birthday present.
You can feel special too wearing a colourful selection of Cyril party tattoos on your birthday or be the envy of the bug ball at a friends party.
The pack includes 2 sheets of tattoos.
Each sheet has:
- A little spotty present
- A party cupcake with a striped candle
- Cyril the woodlouse at a party with his little party hat and tooter.
Little bug cuteness to add to your body and rock at parties! Who are we kidding? We're going to rock them whenever we want!
A great party bag filler or gift for budding entomologists and Cyril fans.
You can learn more about Cyril & Myrtle the woodlice in my up-coming book. Find out more and follow their adventures on social media here
Taken from original artwork created in my little garden studio. 
Made in a limited edition of only 50 patches, catch them whilst you can.
PRODUCT INFO
Pack of 6 tattoos 
Largest tattoo measures 5.5 x 5 cm 
Limited Edition
Inkwear - High quality realistic tattoos
Lasts between 2-10 days depending on area of application.
Waterproof, non-toxic and skin safe
Easily removed with baby oil or alcohol remover
Suitable for ages 5 and above
Don't apply to sensitive skin 
Made in the UK