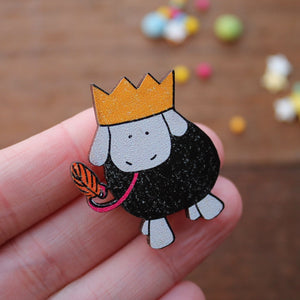 This little sheep is the life of the party! Wearing his little paper crown and blowing his tooter he's ready for some serious fun.
A beautiful gift for sheep lovers and knitters.
Every day can be a party day when you're wearing this adorably cute brooch. Fun to wear as a scarf pin, brooch or hat decoration.
Matching stud earrings available.
Made in small batch production on limited runs, catch them whilst you can.
PRODUCT INFO
Brooch measures 3.5 x 4 cm
Laser cut birchwood with a lovely wood grain
Pin badge back in brass

Presented on a fun backing card
Gift bagged in a voile bag
CARE INSTRUCTIONS
Please take care not to get item wet. Take care when removing and putting on.
PLEASE NOTE - Not suitable for under 3 years due to small and sharp parts. Due to the delicate nature of this item I do not recommend them for young children. This item is handmade and therefore may include slight style and colour variations. Imperfections are part of the handmade process and should be enjoyed for their uniqueness.