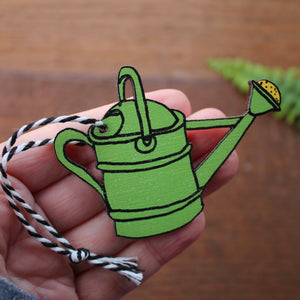 This gorgeous wooden decoration makes the perfect gift for gardeners and growers. A bright green watering can with a yellow rose sprinkler makes a colourful addition to your home.
Hang near your plants or on your Christmas tree!
Made in small batch production on limited runs, catch them whilst you can.
PRODUCT INFO
Measures 8  x 6 cm
Laser cut birchwood with a lovely wood grain
Gift bagged in a voile bag
CARE INSTRUCTIONS
Please take care not to get item wet. 
PLEASE NOTE -  Due to the delicate nature of this item I do not recommend them for very young children unless on display. This item is handmade and therefore may include slight style and colour variations. Imperfections are part of the handmade process and should be enjoyed for their uniqueness.