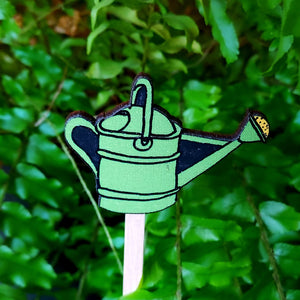 Always forgetting to water your plants? Not only does this watering can look super cute amongst the leaves of your plants, it's also the perfect reminder to water them!
A great little stocking filler for plant growers!
Made from printed birchwood this little plant stick is an earth friendly alternative to plastic decorations.
The smooth pointed stick pokes easily into sand, soil or gravel and looks great in terrariums.
PRODUCT INFO
1 x Plant stick
Stick 14 cm 
Made in the UK
PLEASE NOTE
Wood is a natural product and should be protected from moisture and direct sun to avoid fading and damage. Contains small parts not suitable for young children. Made in small batch production on limited runs. Hand finished and may include slight style and colour variations.